Orange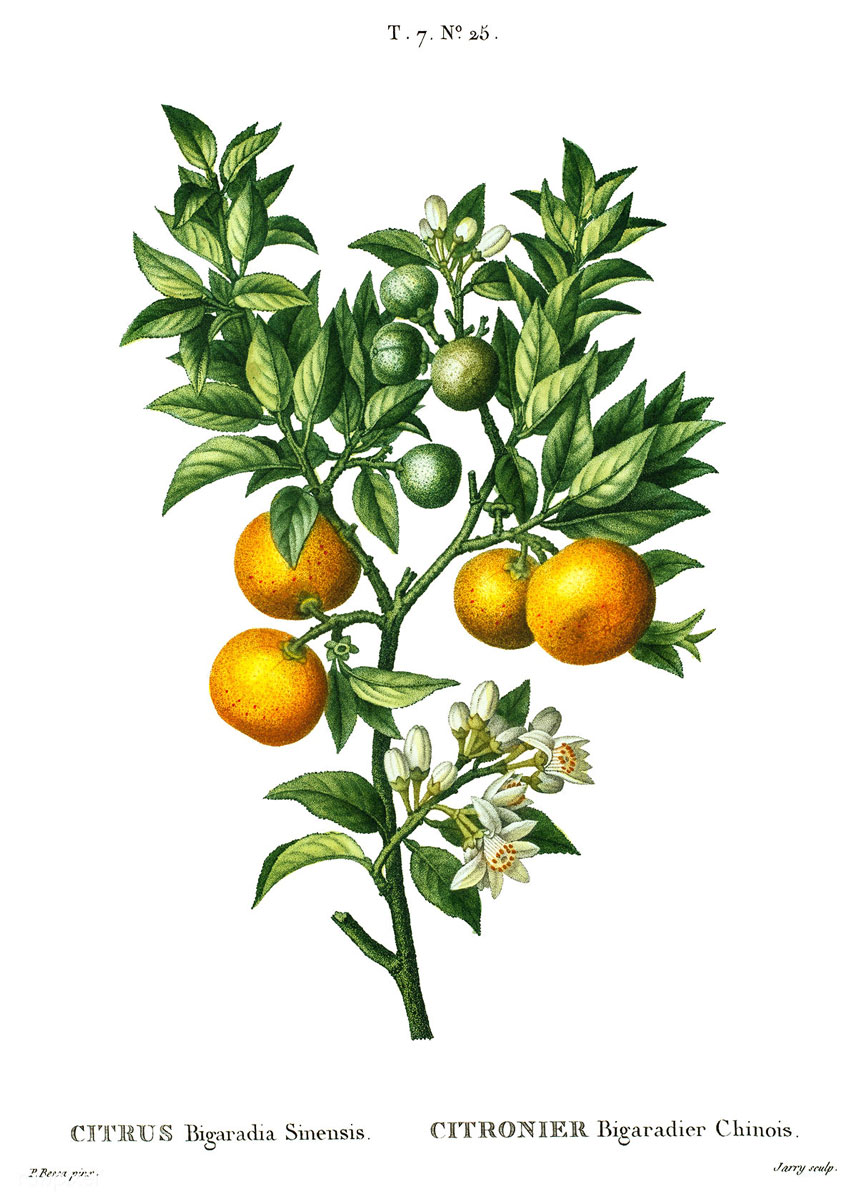 Origin: China
Family: Rutaceae
Subfamily: Aurantioideae
Scientific Name: Citrus aurantium (bitter orange) Citrus sinensis (sweet orange)
Folk Names: Love fruit
Magical
Element: Fire
Day: Sunday
Planet: The Sun
Zodiac: Sagittarius
Deities: Adrestia, Fortuna, Gaia, Zeus
Parts Used: Fruits, flowers, leaves
Magical Properties: Peace, friendship
Substitutions: Bergamot, mandarin, or any other citrus.
Aromatherapy
As well as cold-pressing the peels for oil, Neroli oil is distilled from the flowers, and Petitgrain from the leaves and twigs.
Part Used: Peels
Extraction Method: Cold-pressed
Flash Point: 43°C
Scent Type: Citrus
Perfume Note: Top
Scent Description: Fresh, fruity citrus
Aromatherapeutic Uses
Blends well with: Black pepper, cinnamon, clove, ginger, frankincense
Warnings:
Bitter Orange oil is Phototoxic: Do not expose skin to sunlight for 12-72 hours after topical use (may not apply to steam-distilled oil).
May cause skin irritation and sensitisation, dilute double for topical application.
---
Neroli
Element: Water
Direction: West
Magical Properties: Sleep, weddings, beauty, sexuality
Aromatherapy
Orange blossom in perfume was popularised and named for princess Anne Marie Orsini of Nerola, Italy.
Part Used: Flowers
Extraction Method: Steam distillation
Flash Point: 68°C
Scent Type: Floral
Perfume Note: Middle/top
Scent Description: Sweet, lightly-floral scent
Blends well with: Benzoin, jasmine, lavender, sandalwood, ylang-ylang
Warnings: Use only in low dilutions.
---
Petitgrain
Element: Earth
Direction: East
Magical Properties: Mental clarity, meditation,
Aromatherapy
The name petitgrain means "little grains" and comes from a time when tiny, unripe oranges were used for making oil.
Part Used: Leaves and twigs
Extraction Method: Steam distilled
Flash Point: 68°C
Scent Type: Spicy
Perfume Note: Top
Scent Description: Floral-citrus, woody scent
Blends well with: Bergamot, lavender, palmarosa, geranium, rosewood
---
Botanical
Genetic research into citrus fruits have pinpointed orange as most likely being a hybrid of mandarin and pomelo (Citrus maxima).
Type: Evergreen tree
Plant size: 9-10m
Leaves: Glossy, dark green, up to 10cm long
Flowers: 5cm white, five-petalled flowers
Fruit: Orange round fruits, 10-15cm in diameter
Etymology: The English name comes from the Sanskrit name naranja.
In the Garden
Type: Evergreen tree
Sow: Spring
Light: Full sun
Water: Water regularly
Soil: Well-drained