Mint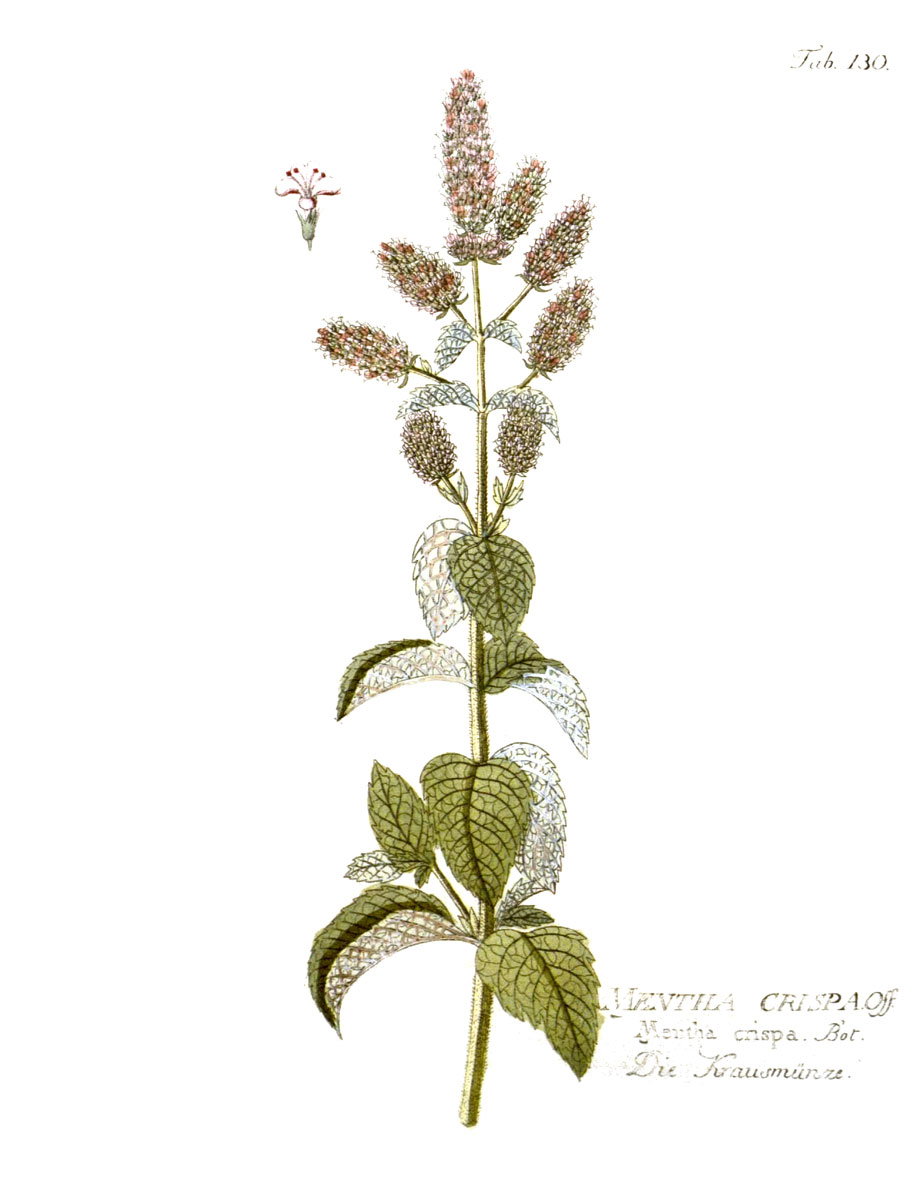 Origin: Europe, Africa, Asia, Australia, and North America
Family: Lamiaceae
Subfamily: Nepetoideae
Tribe: Mentheae
Scientific Name: Mentha spp.
Selected Varieties:
Magical
Element: Air
Day: Wednesday
Planet: Mercury
Zodiac: Gemini
Deities: Demeter, Hades, Menthe, Zeus
Parts used: Leaves
Magical Properties: Protection, healing, purification, prosperity, love,
Substitutions: Sage
Magical Uses
Keep mint in the home for protection.
Carry mint to protect against the evil eye.
Stuff a poppet with mint to aid with digestive/stomach problems.
Cleanse evil from a space by asperging salt water using a bundle of fresh mint, marjoram, and rosemary.
Use mint in prosperity and money workings: Keep a few leaves on your person to aid with business deals, or in your wallet to attract money.
---
Pennyroyal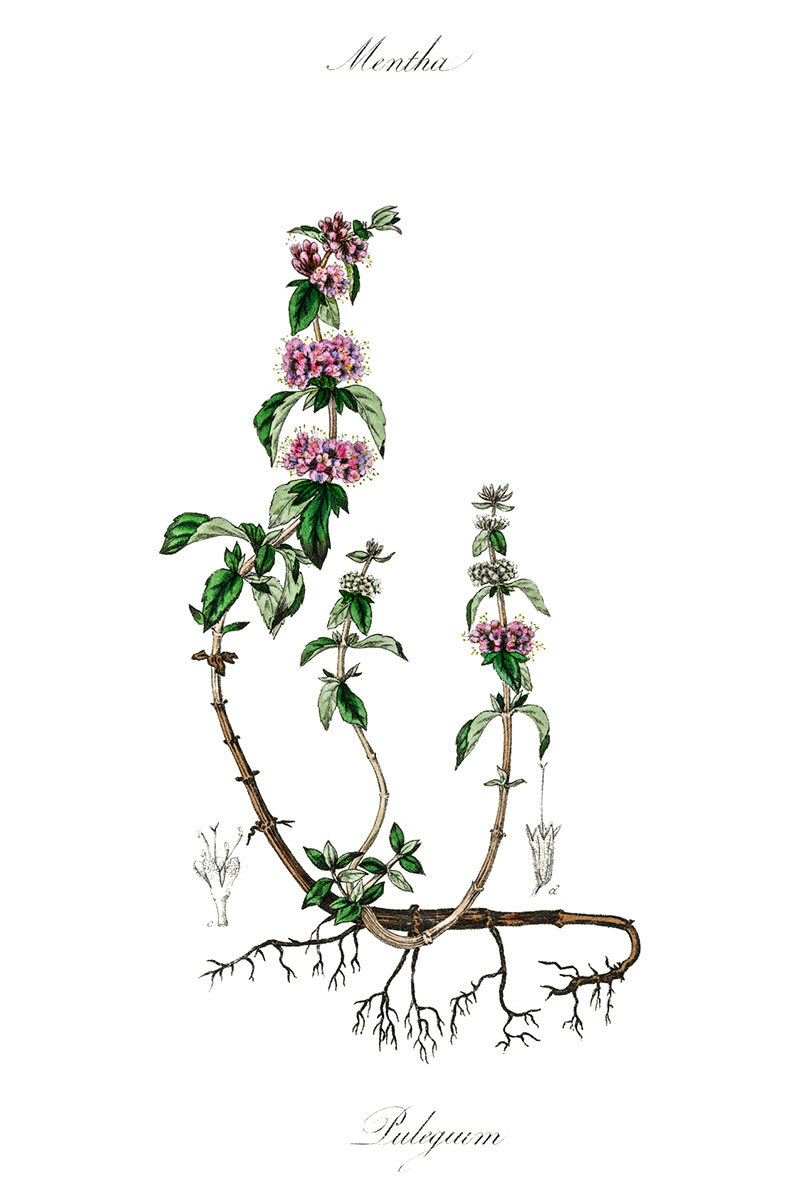 Scientific Name: Mentha pulegium
Folk Names: Lurk-in-the-ditch, mosquito plant, piliolerian, pudding grass, run-by-the-ground, squaw mint, tickweed
Magical
Element: Earth
Direction: East
Day: Friday
Planet: Venus
Zodiac: Libra
Magical Properties: Strength, peace, exorcism, relationships
Magical Uses
Causes peace in relationships by calming quarrels.
Pennyroyal leaves in your shoe strengthens the body and wards off weariness in your travels.
---
Peppermint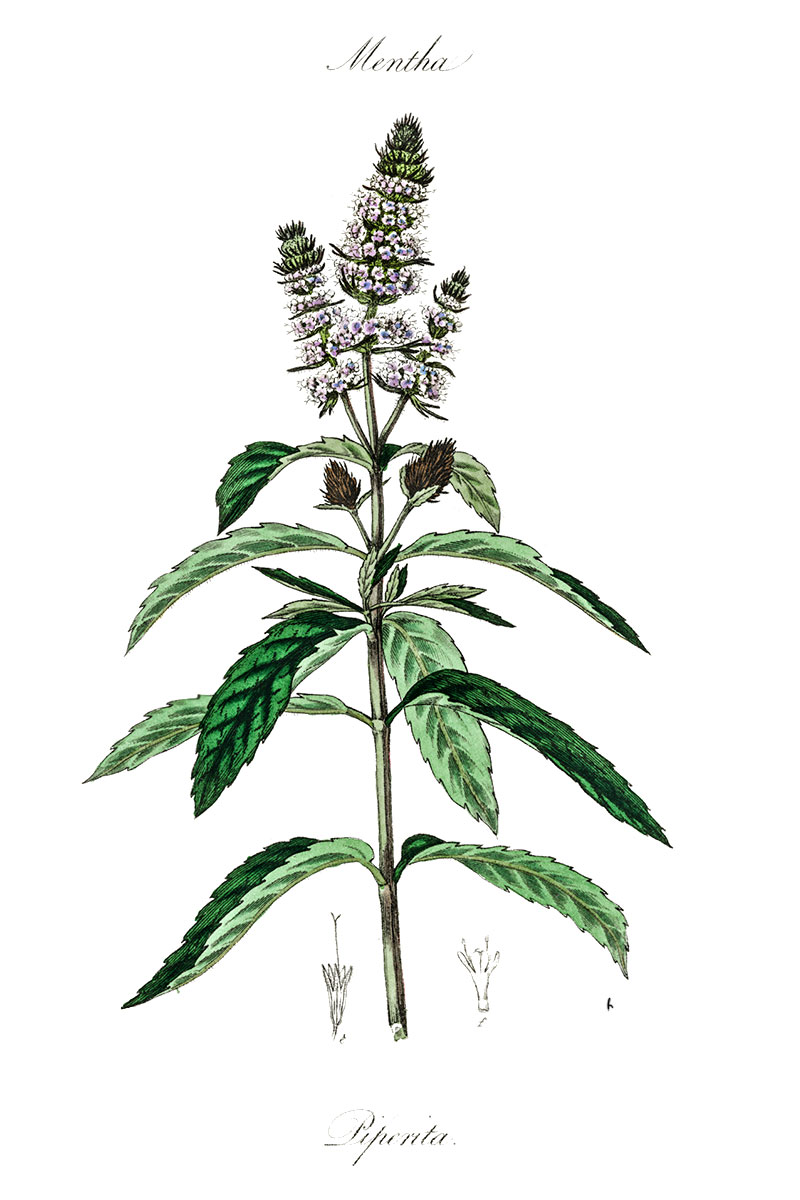 Scientific Name: Mentha piperita
Folk Names: Balm mint, brandy mint, lammint
Magical
Element: Fire
Direction: North
Day: Thursday
Planet: Mars
Zodiac: Gemini
Magical Properties: Exorcism, psychic skills, sexuality, sleep, luck,
Substitutions: Spearmint
Magical Uses
Add fresh peppermint to your altar to attract positive spirits.
Peppermint tea has been used as far back as ancient Greece to stimulate lust.
Place peppermint leaves beneath your pillow to encourage prophetic dreams.
Aromatherapy
Part Used: Leaves
Extraction Method: Steam distillation
Flash Point: 66°C
Scent Type: Herbaceous
Perfume Note: Top
Scent Description: Fresh, cool, minty aroma, slightly spicy
Active Constituents: Menthol (up to 50%) and menthone (up to 45%)
Aromatherapeutic Use
Blends well with: Eucalyptus, lavender, lemon, and rosemary
Warnings:
Avoid during pregnancy and while breastfeeding.
Should not be used on or around children under 7: can result in suffocation due to paralysing of autonomic nervous system functions.
Not safe for use for folks with high blood pressure.
Can cause skin irritation and chemical burns: use diluted to under 1%.
Inhaling large amounts can lead to dizziness, confusion, nausea, double vision, muscle weakness, and other symptoms.
Do not add to baths.
---
Spearmint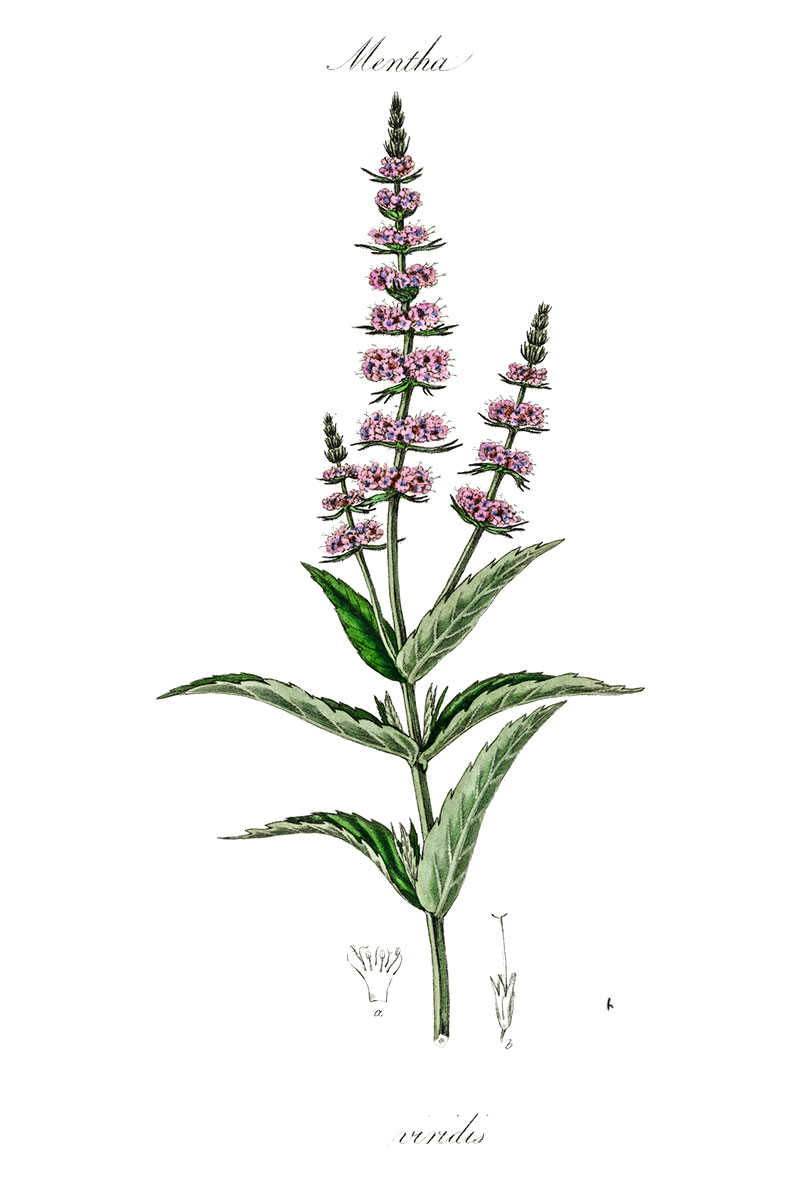 Scientific Name: Mentha spicata
Folk Names: Garden mint, green mint, lamb mint, our lady's mint,
Magical
Element: Water
Direction: West
Day: Wednesday
Planet: Uranus
Zodiac: Aquarius
Magical Properties: Mental powers, clarity
Substitutions: Peppermint
Magical Uses
Use spearmint in a poppet for healing respiratory/lung issues.
Add spearmint leaves under your pillow for protection while sleeping.
Aromatherapy
Part Used: Flowers
Extraction Method: Steam distillation
Flash Point: 58°C
Scent Type: Herbaceous
Perfume Note: Top
Scent Description: Fresh, cool, minty aroma
Active Constituents: Carvones (~50%), limonene (20-30%), and eucalyptol
Aromatherapeutic Use
Blends well with: Basil, eucalyptus, lavender, and rosemary
Warnings:
Avoid during pregnancy.
May cause skin irritation and sensitisation, dilute double for topical application.
---
Botanical
Mentha contains 13-24 distinct species, whose native range includes most continents (excluding South America and Antarctica). As these species hybridise extremely readily, with hundreds/thousands of described taxa, and over 3,000 names recorded (mostly synonyms and illegitimate names).
Type: Herb
Plant Height: 10-120cm
Spread: Indeterminate
Stems: Square, erect stem, with above-ground runners Leaves: Opposite, oval-to-lance-shaped, often downy, with serrated edges
Flowers: White-to-purple in false whorls/vertical spikes
Fruit: Nutlet with 1-4 seeds
Etymology: Both 'mint' and the genus name 'mentha' derive from the Greek Minthe, the name of a nymph associated with the river Cocytus, who was transformed into the plant in the myth of Hades and Persephone.
In the Garden
Type: Perennial
Sow: Spring
Light: Partial shade
Water: Keep moist
Soil: Rich
Companion Planting: Plant near roses to deter aphids.
Tips:
Mint is more effective grown from cuttings or division than seed.
Mint is famous for overtaking gardens if grown in the ground - to prevent this, grow in pots, or be sure to plant into a bottomless container extending at least 30cm underground and slightly above, so that only above-ground spread needs to be actively managed.
If planting multiple types of mint, be sure not to plant them near each other, as this tends to result in them losing their individual flavours/scents.