Niaouli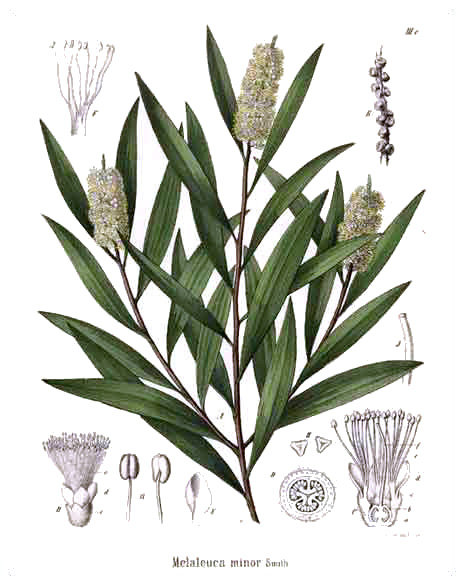 Origin: Oceania
Family: Myrtaceae
Subfamily: Myrtoideae
Tribe: Melaleuceae
Scientific Name: Melaleuca quinquenervia (also M. viridiflora)
Folk Names: Broad-leafed tea tree, nerolina (M. quinquenervia)
Magical
Element: Air
Direction: South
Days: Wednesday
Planet: Uranus
Zodiac: Aquarius
Magical Properties: Healing, cleansing, protection, harmony, consecration, stimulant, balance
Substitutions: Cajeput, eucalyptus, tea tree, wattle
Aromatherapy
Part Used: Leaves and young twigs
Extraction Method: Steam distillation
Flash Point: 50°C
Scent Type: Herbaceous
Perfume Note: Middle
Scent Description: Earthy-herbaceous, reminiscent of eucalyptus
Nerolina
Nerolina is a chemotype of Melaleuca quinquenervia that is particularly high in the compound E-nerolidol.
Part Used: Leaves and young twigs, sometimes also flowers
Extraction Method: Steam distillation
Flash Point: 96°C
Scent Type: Herbaceous
Perfume Note: Middle/top
Scent Description: Floral/herbaceous, sweet citrus aroma
Aromatherapeutic Uses
Emotionally uplifting, stimulating, helps with mental focus, and can be used to ease colds/flus and congestion. Repels insects.
Warnings
Use with caution around children: Niaouli oil can be high in 1,8-cineole (the main compound in eucalyptus oil), which can affect the autonomic nervous system in children, causing suffocation.
Medicinal
Active Constituents: Tea tree oil contains a variety of terpenoids, which are thought to be responsible for most of the antibacterial and antiseptic activity. One chemotype (nerolina) is incredibly high in E-nerolidol (also found in lavender, tea tree, sage, jasmine, ginger, and lemongrass) and the other is high in 1,8-cineole (the main compound in eucalyptus oil).
Medicinal Properties:
Anti-bacterial
Anti-fungal
Anti-septic
Decongestant
Indigenous Medicinal Uses:
Decoctions of the leaves were used to treat colds, headaches, and general sickness
Practical
Due to the timber's tolerance for being soaked, it has been used in fencing.
Also frequently used as a street tree, or planted in public parks and gardens. It is sometimes used as a bonsai.
Indigenous Uses:
Some flowers produce a honey-like nectar, which was eaten, or made into a drink by soaking the flowers in water.
Bark was used as a container for food and water, to wrap food for cooking in coals or an earth oven.
Botanical
Type: Evergreen tree
Plant size: 8-15m
Bark: White/grey/beige papery bark
Leaves: Flat, leathery, dull-green leaves, 6-12cm long and 1-3cm wide, with hairy/fluffy new growth.
Flowers: Late spring to early Autumn: Spikes 2-5cm long comprised of 5-18 groups of 3 flowers with white/cream stamens; branches continue growing out past the flowers.
Fruit: Broadly cylindrical, woody capsules, 2.5-4mm long, and clustered along the spike. Seeds are released annually.
Etymology: Quinquenervia comes from the Latin quinque meaning "five" and nervus, "vein", referring to the leaves usually having five veins.
In the Garden
Type: Evergreen tree
Light: Full sun
Water: Keep damp
Tips:
Does not like alkaline soils.
Use low-nitrogen fertiliser.
Happy in water-logged soils (natural habitat is swampy areas)