Rosemary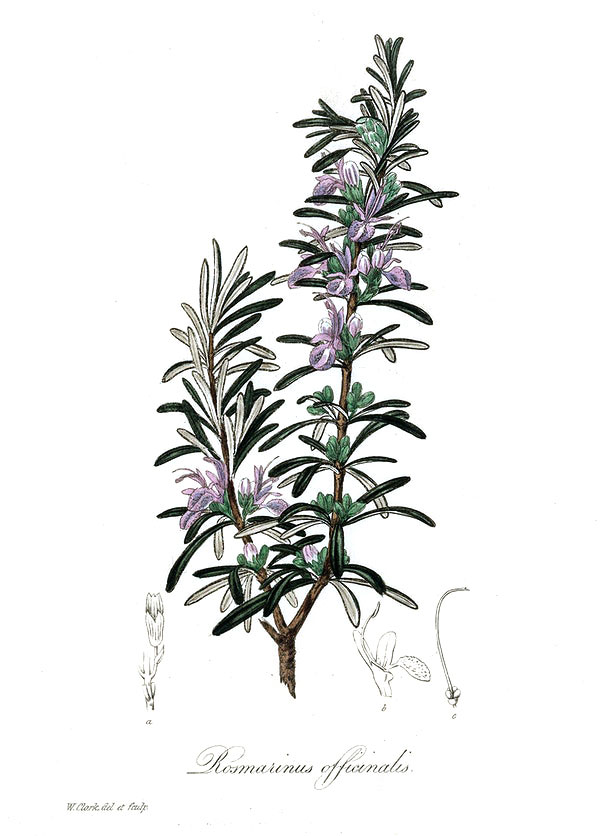 Origin: Asia and the Mediterranean region
Family: Lamiaceae
Scientific Name: Salvia rosmarius
Folk Names: Compass weed, dew of the sea, elf leaf, guardrobe, incensier, libanotis, polar plant, rosmaris, rosmarine, rosemarie, sea dew
Magical
Element: Fire
Day: Sunday
Planet: Sun
Zodiac: Leo
Associated Celebrations: ShadowFest, Yule
Deities: Athena, Kupala
Magical Properties: Cleansing, exorcism, healing, intellect, love, lust, protection, purification, remembrance, sleep, vitality, youth.
Substitutions: Can be used in place of any other herb.
Magical Uses:
Hung up it wards off thieves.
Wear a chaplet of rosemary to aid the memory.
Burn rosemary and juniper as a healing and recuperation incense.
The smoke is purifying - Combine it with sage for smoke cleansing.
Add rosemary to protective foods, especially those utilizing tomatoes.
It's used for both weddings and funerals due to its associations with love and remembrance.
It has connections with the sea and so is used in all sea rituals, as well as in sachets designed to ensure a safe, easy passage on the water.
A good protective sachet for boat or ship passengers can be made up of rosemary, garlic (to stop storms), and mistletoe (to guard against lightning storms).
Aromatherapy
Part Used: Leaves
Extraction Method: Steam distillation
Flash Point: 43°C
Scent Type: Herbaceous
Perfume Note: Middle/top
Scent Description: Crisp, minty-herbaceous, with a woody undertone
Aromatherapeutic Uses
Rosemary oil on the forehead is said to strengthen memory and clarity of thought.
Rosemary essential oil has a stimulating aroma that relieves fatigue and strengthens an exhausted mind.
Warnings:
Should not be used on or around children under 5: can result in suffocation due to paralysing of autonomic nervous system functions.
Not safe for use for folks with epilepsy/seizure disorders or high blood pressure.
Avoid during pregnancy.
Can be a skin irritant: use only in low dilutions.
In the Garden
Type: Perennial
Sow: Spring
Light: Bright light
Water: Keep moderately dry
Soil: Well-drained
Companion Planting: Sage, garlic
Tips:
Do not over-water seedlings
Feed only after flowering