Tea Tree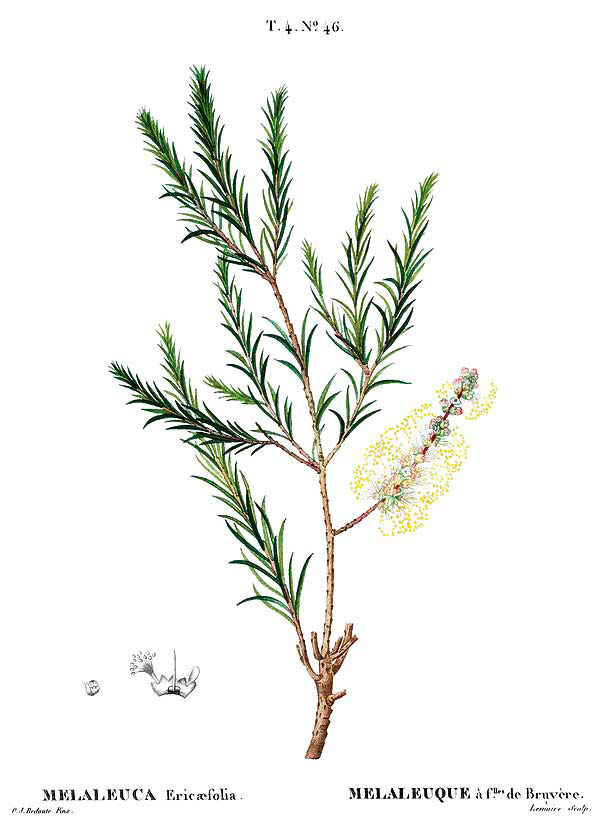 Origin: Australia
Family: Myrtaceae
Subfamily: Myrtoideae
Tribe: Melaleuceae
Scientific Name: Melaleuca alternifolia
Folk Names: Narrow-leafed paperbark
Indigenous (Noongar) Names: Moonah (M. preissiana, stout paperbark, and M. lancelota, Rottnest Island tea tree)
Magical
Element: Water
Direction: West
Day: Friday
Planet: Neptune
Zodiac: Pisces
Magical Properties: Healing, protection, harmony, wisdom, purification, clarity, vitality, consecration
Substitutions: Cajeput, eucalyptus, niaouli, or oak (Druidic Ogham equivalent)
Aromatherapy
Part Used: Leaves and twigs
Extraction Method: Steam distillation
Flash Point: 47°C
Scent Type: Herbaceous
Perfume Note: Middle/top
Scent Description: Woody, slightly spicy, and medicinal.
Aromatherapeutic Uses
Emotionally uplifting, reviving, helps with mental focus, and can be used to ease colds/flus and congestion. Repels insects.
Warnings:
Sensitising: should be used in moderation.
Unsafe for use on pets.
Medicinal
Active Constituents: Tea tree oil contains a variety of terpenoids, the most abundant being terpinen-4-ol, which is 35-50% of the oil and thought to be responsible for most of the antibacterial and antiseptic activity.
Medicinal Properties:
Anti-bacterial
Anti-fungal
Anti-septic
Decongestant
Immuno-stimulant
Indigenous Medical Uses:
The strong aroma is used to treat headaches, sinusitis, respiratory problems, coughs, stomach upsets, and rheumatic aches and pains.
Leaves and stems of some melaleucas were crushed and heated to use as a poultice, or crushed and mixed with fat to make ointments or salves, to treat muscular aches and arthritis.
Paperbark bark has been used as bandages.
Practical
Used in soaps, toothpaste, deodorants, and increasingly in aftershaves and colognes.
Indigenous Uses:
The flowers are soaked in water to make a sweet drink (called mangite or mungitch by the Noongar people). This liquid was sometimes fermented to make an alcoholic beverage (gep).
The leaves were used for smoking ceremonies.
Paperbark bark has been used for sanitary purposes, as toilet paper, and to wrap food.
Bark that peels off in larger sheets is used as a surface to prepare food, as a container for food and water, to wrap food for cooking in coals or an earth oven, and to create temporary shelters.
Botanical
Most commonly refers to Melaleuca alternifolia, but can also be used as an umbrella term for many species in the Melaleuca family.
Type: Evergreen tree
Plant size: 2m-10m
Bark: Mostly white/brown and papery (some fibrous)
Leaves: Narrow: 1-5cm long, 0.5-5mm wide
Flowers: Spring to summer: White/cream cylindrical/bottlebrush flowers, ~2.5cm diameter, 2-5cm long
Fruit: Woody fruits, usually cup/barrel/spherical-shaped capsules, often arranged in clusters along the stems.
Etymology: Called "tea-tree" as it was recorded by James Cook as being used to create an infusion in place of tea.
In the Garden
Type: Evergreen tree
Light: Full sun
Water: Keep moist
Soil: Well-draining
Tips:
Does not like alkaline soils.
Use low-nitrogen fertiliser.