Wormwood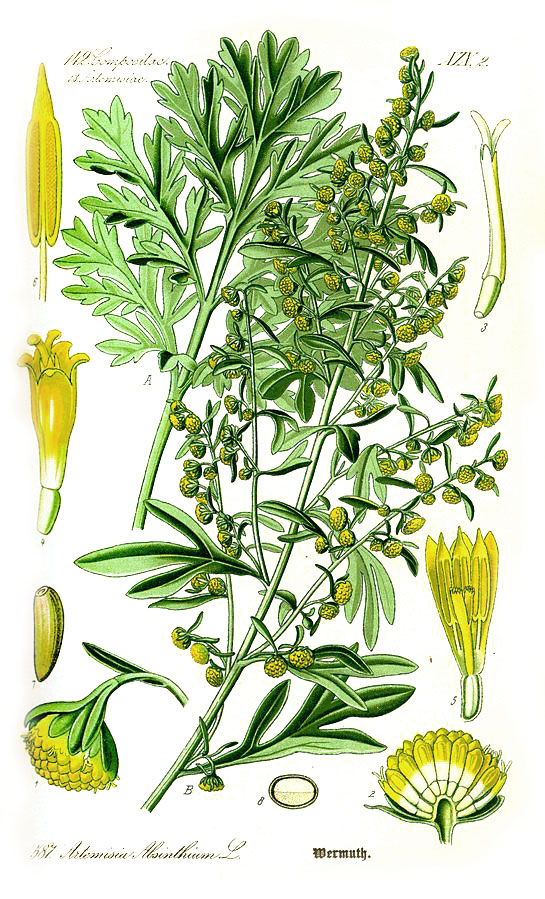 Origin: Eurasia and northern Africa
Family: Asteraceae
Scientific Name: Artemisia absinthium
Folk Names: Absinthe, Crown for a King, green ginger, old woman
Magical
Element: Air
Day: Thursday
Planet: Pluto
Zodiac: Scorpio
Associated Celebrations: ShadowFest, Quickening
Deities: Artemis, Diana, Iris, maiden goddesses
Parts Used: The herb
Magical Properties: Clairvoyance, divination, protection, banishing, exorcism
Substitutions: Mugwort
Botanical
Type: Perennial herb
Plant size: up to 1.2m
Leaves: Silky leaves are greenish-grey above and white below. Leaves at the base are up to 25cm long and multiply-divided. Leaves on the stems are 5-10cm long, narrower, with less division.
Flowers: Early summer to early autumn. Pale yellow, tubular flowers clustered in spherical heads.
Etymology: Artemisia comes from Ancient Greek Artemis. Absinthum is from apsinthion, meaning the same.
In the Garden
Type: Partially-evergreen perennial
Sow: Spring
Light: Bright sun
Soil: Well-drained
Companion Planting: Wormwood is not a good companion plant, and tends to stunt the growth of those planted around it. It also impairs the flavour of coriander and dill.
Tips:
Pick flowering tops just as they begin to open. Dry.
Pick leaves for drying in summer.
Prune back to within 15cm of the ground at the end of the growing season.
Only feed in summer.
Keep watering to a minimum over winter.