Macadamia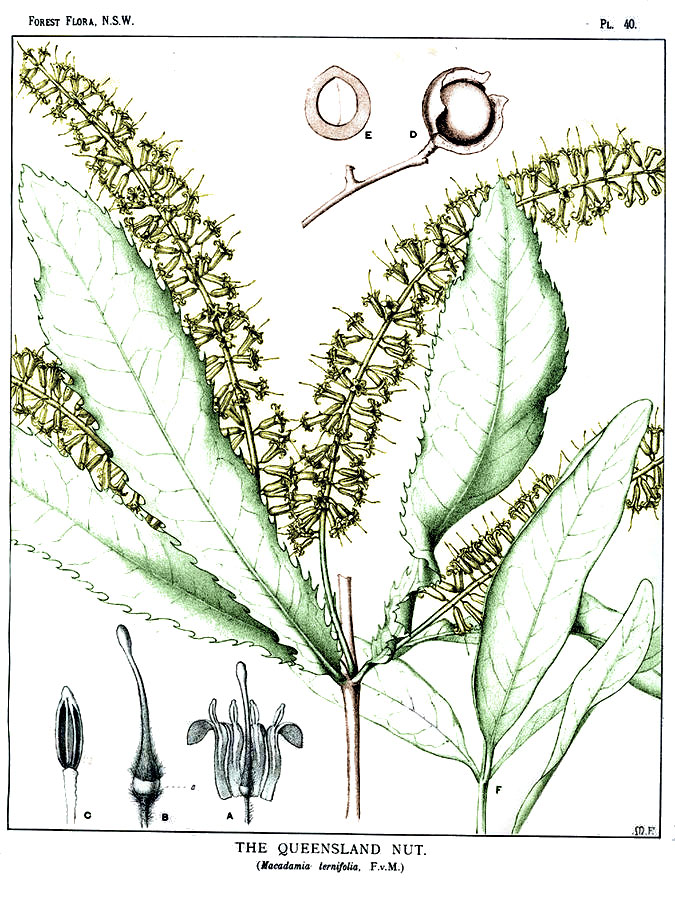 Origin: Eastern Australia
Family: Proteaceae
Subfamily: Grevilleoideae
Scientific Name: Macadamia integrifolia
Folk Names: Bauple nut, bush nut, maroochi nut
Indigenous Names: Baupil, boombera, gyndl, jindilli
Magical
Element: Earth
Day: Thursday
Planet: Jupiter
Zodiac: Sagittarius
Parts Used: Nut
Magical Properties: Money, protection
Substitutions: Other nuts
Aromatherapy
Part Used: Nuts
Scent Description: Mildly nutty
Flash Point: 290°C
Perfume Use: Base oil
Shelf Life: 9-12 months
Extraction Method: Steam distillation
Topical Use
Skin Types: All
Absorption Rate: Medium
Viscosity: Medium
Properties: Nourishing, antioxidant, moisturising, regenerative
Warnings: May cause a reaction in some with nut allergies
Botanical
Macadamia trees are native to the rainforests of northern NSW and southern Queensland.
Type: Tree
Plant size: 8-20m
Leaves: Glossy, deep green leaves, 6-30cm long and 3-13cm wide, arranged in whorls of 3
Flowers: Kambarang to Bunuru: 5-30cm long inflorescence with 10-15mm long white-to-pink/purple flowers, with 4 tepals
Fruit: Round, shiny brown, woody fruits, 2-3cm diameter, containing one nut. The shell is 5x harder than that of a hazelnut.
Etymology: Named for Scottish-Australian chemist and teacher John Macadam.
In the Garden
Type: Evergreen tree
Light: Partial shade
Water: Keep moist
Soil: Nutrient-rich, well-drained soil
Tips:
Trees begin bearing nuts from 6-7 years old.
Nuts take 185 days to mature.
Fertilise in spring with a low-phosphorous fertiliser.