Kangaroo Paw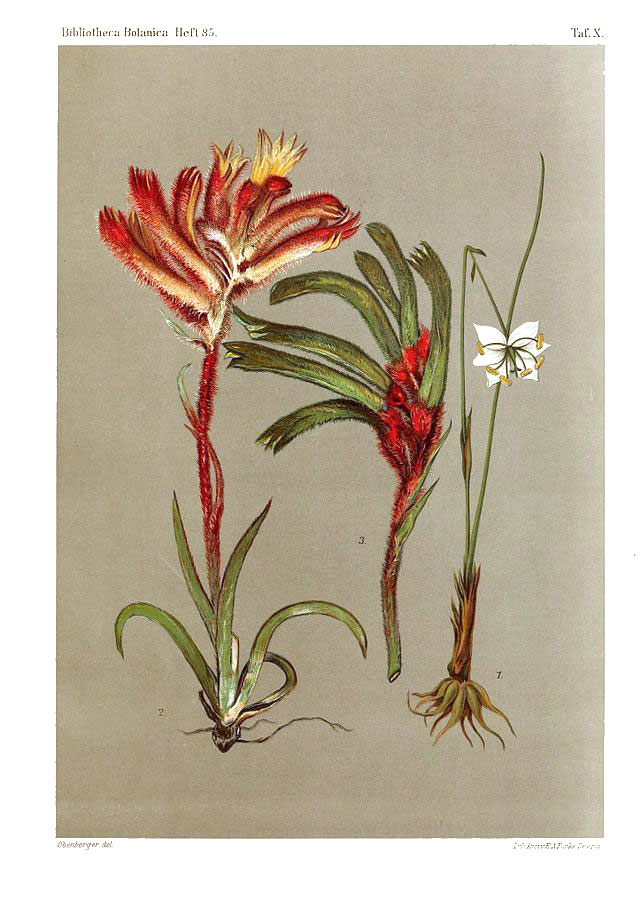 Origin: Western Australia
Family: Haemodoraceae
Scientific Name: Anigozanthos spp. and Macropidia spp.
Indigenous (Noongar) Names: Nollamara, kurulbrang
Magical
Element: Water
Day: Monday
Planet: Neptune
Zodiac: Pisces
Associated Celebrations: VernEx
Parts Used: Flowers
Magical Properties: Emotion, compassion, balance, friendship, harmony, love, beauty, forgiveness, sincerity, reconciliation
Substitutions: Flax lily
Practical
Used as a cut flower crop and ornamental plant.
Indigenous Uses:
The rhizomous roots (bwoor) were eaten, either raw or roasted in hot ashes.
The roots were sometimes ground into a paste, which was formed into cakes and baked.
Botanical
There are 11 species in the genus of Anigozanthos and one in Macropidia (M. fuliginosa), which are all endemic to Western Australia, where it is the state floral emblem.
Type: Perennial flowering plant.
Plant size: 20cm-3m
Leaves: Linear, strap-like leaves
Flowers: Djilba to Kambarang: Tubular flowers that open at the apex with 6 claw-like structures. Mainly come in red and green, along with yellows and black, although other colours have been cultivated.
Etymology: Named kangaroo paw (and cats paw, A. humilis) for the paw-like flowers.
In the Garden
Type: Perennial
Light: Bright light
Water: Drought-tolerant
Soil: Well-draining
Tips:
May require slightly more water over warmer months.
Trim right back to ground level to encourage healthy new growth, followed by slow-release fertiliser.
Plants can be divided at the end of summer.