Evening Primrose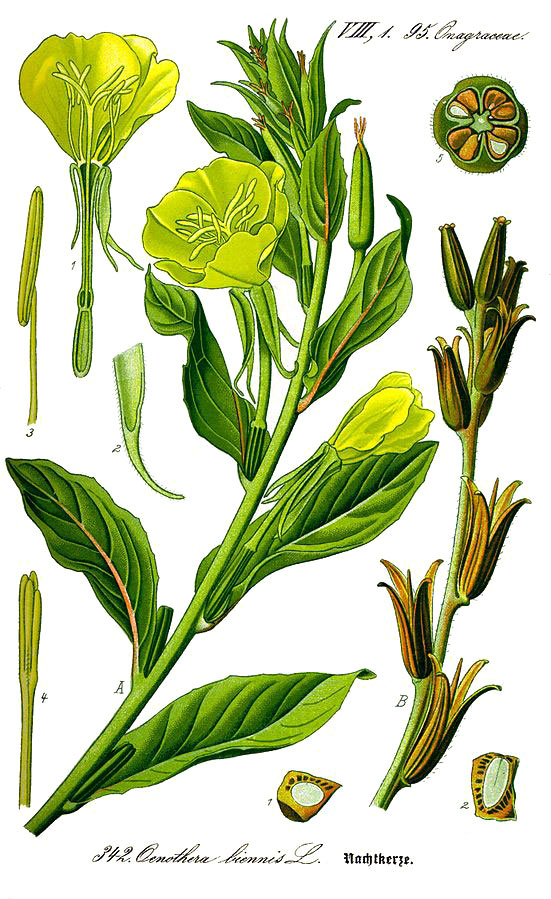 Origin: North America
Family: Onagraceae
Scientific Name: Oenothera biennis
Folk Names: Evening star, King's cure all, night light, night willow herb, scabish
Magical
Element: Water
Day: Monday
Planet: Neptune
Zodiac: Pisces
Deities: Diana
Magical Properties: Beauty, success, friendship, truth, transition, health, binding, intuition
Aromatherapy
Part Used: Seeds
Extraction Method: Cold-pressing or solvent extraction
Flash Point: 270°C
Perfume Use: Base oil
Shelf Life: 6 months
Scent Description: Sweet, slightly nutty
Active Constituents: High in linoleic
Topical Uses
Skin Types: Dry/combination
Absorption Rate: Fast
Viscosity: Light/medium
Properties: Softening and deeply soothing to irritated and inflamed skin; regenerative skincare, mature aging skin, psoriasis and eczema, anti-inflammatory, very healing.
Practical
Virtually all parts of the plants are edible:
The roots can be eaten raw, or cooked like potatoes;
The stems can be used while they're still young in June: after peeling, they can be eaten raw or fried;
Leaves can be used from April to June, eaten raw in salads or cooked like spinach;
The flower buds can be harvested from June to September. They are mild in taste and can be eaten raw in salads, pickled in oil, fried or in soups;
The flowers have a slightly sweet taste and can be used as a garnish for salads or desserts;
The oil from the seeds is widely sold as a dietary supplement due to its high gamma-linolenic acid (GLA) content.
Indigenous Uses:
Indigenous tribes in North America (namely the Cherokee, Iroquois, Ojibwe and Potawatomi) were using the plant as food and medicinal crop for hundreds of years.
Beauty
Very moisturising
High in gamma-linolenic acid (GLA) (10%)
Helps prevent premature skin ageing
Botanical
Evening Primrose refers to the entire genus of Oenothera, which consists of about 145 species.
Type: Biennial flower
Plant size: 30-150cm
Leaves: Lance-shaped leaves 5-20cm long and 1-2.5cm wide. They grow in a tight rosette in the first year, and spirally on the stem in the second year. Flowers over summer.
Flowers: Yellow flowers with four bi-lobed petals, 2.5-5cm in diameter.
Fruit: 2-4cm long capsules containing numerous 1-2mm long seeds.
Etymology: Unrelated to true primroses (Primula spp.), although the flowers can look similar. Named "evening primrose" for the flowers which open visibly quickly every evening and last until the following noon.