Grevillea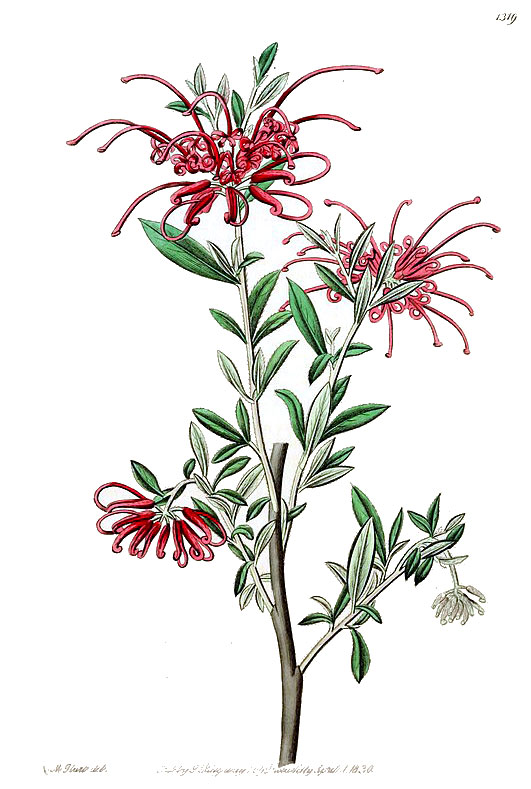 Origin: Australasia
Family: Proteaceae
Scientific Name: Grevillea spp.
Folk Names: Silky oak, spider flower, toothbrush plant
Indigenous (Noongar) Names:
– Honeysuckle Grevillea (Grevillea juncifolia): Moncart, paarluc
Magical
Element: Air
Day: Friday
Planet: Venus
Zodiac: Libra
Parts Used: Flowers
Magical Properties: Tranquillity, courage, truth, change, strength, communication, beauty, insight
Substitutions: Blackthorn (Druidic Ogham equivalent)
Medicinal
Indigenous Medicinal Uses (of various species):
Moncart bark was burned to use the ash (as is, or chewed) to rub on sores to promote healing.
Warnings
Grevillea leaves contain resorcinol, a chemical similar to that found in poison ivy and poison oak, which can trigger dermatitis reactions in some people.
Some species of grevillea flowers contain cyanide.
Practical
Grevilleas are popular garden plants.
Indigenous Uses:
The nectar (ngonyang) was either sucked from the flowers or soaked in water to make a sweet drink, which was sometimes fermented (gep).
Botanical
The genus of about 360 species is closely related to Hakea.
Type: Evergreen shrubs/trees
Plant size: 0.5-m-35m
Leaves: Range from needle-shaped to fern-like
Flowers: Brightly-coloured, petal-less flowers
Etymology: Named for Charles Francis Greville, a patron of botany and co-founder of the Royal Horticultural Society.
In the Garden
Type: Evergreen shrubs/trees
Light: Bright light
Water: Drought-tolerant
Soil: Well-drained, slightly acidic
Tips:
Poor drainage or overwatering can lead to root rot.
Cen be fertilised slightly in early spring if needed. Avoid fertiliser containing phosphorous.