Flax Lily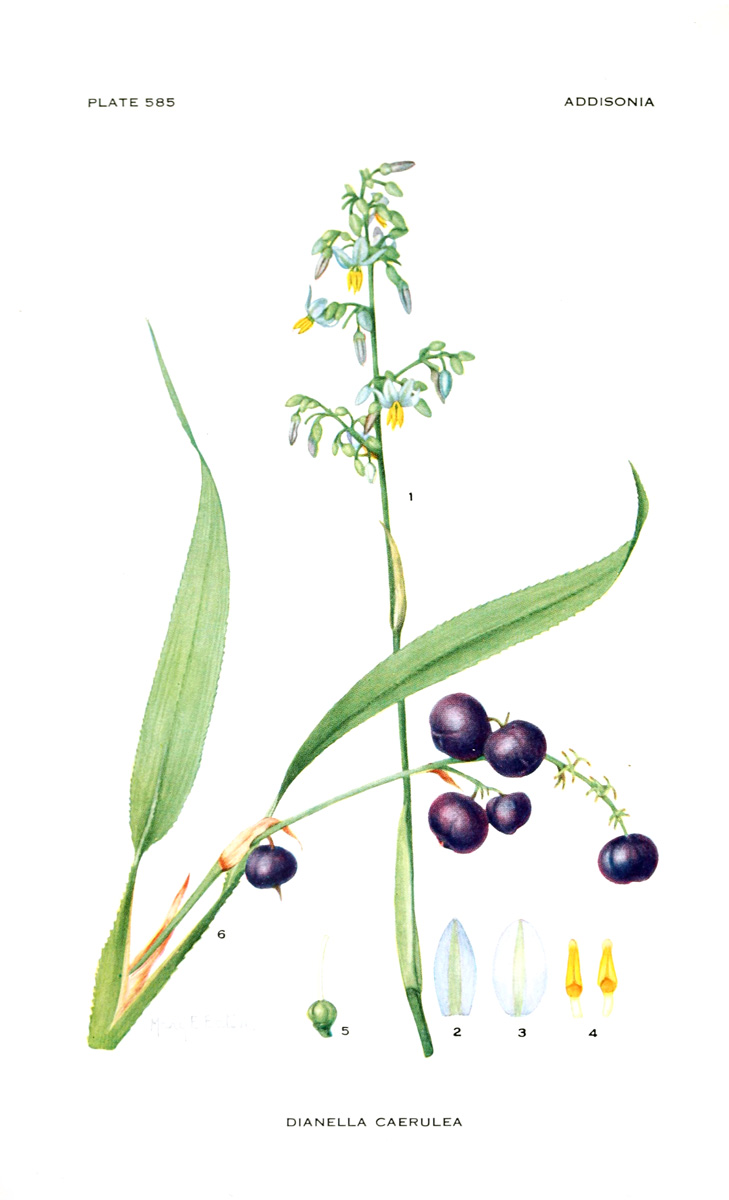 Origin: Australia, Africa, South-east Asia, the Pacific Islands, New Zealand.
Family: Asphodelaceae
Subfamily: Hemerocallidoideae
Scientific Name: Dianella spp.
Folk Names: Blue flax lily, blueberry lily
Indigenous (Noongar) Names: Mangard (D. revoluta)
Magical
Element: Water
Day: Wednesday
Planet: Neptune
Zodiac: Aquarius
Deities: Diana
Magical Properties: Emotion, beauty, compassion, harmony, creativity, peace, binding
Substitutions: Kangaroo Paw
Medicinal
Indigenous Medicinal Uses (Dianella revoluta):
Decoctions of the leaves were consumed to relieve headaches.
Decoctions of the rhizomous roots were drunk to treat colds.
Practical
Flax lily is a popular landscaping plant, due to it's winter foliage and colourful berries.
Indigenous Uses:
Flax lily roots were pounded and roasted or steamed to eat.
The leaves were used to make string, cord, and weave baskets.
The berries of some species are edible, eaten raw or cooked.
Botanical
The genus of Dianella contains roughly 40 species, half of which are native to Australia.
Type: Tufted herb
Plant Height: 0.5-1.5m
Leaves: Narrow, grass-like leaves up to 85mm long
Flowers: 1-2cm across with 3 sepals and 3 petals of similar size, usually blue/purple, sometimes white
Fruit: Bright indigo-coloured berries ~1cm across
Etymology:
Dianella is derived from the Roman goddess Diana.
Flax refers to the flowers, which look similar to those of flax species;
Lily is due to the past arrangement as part of the lily family.
In the Garden
Type: Perennial herb
Light: Partial to full shade
Water: Drought tolerant once established
Soil: Well-drained
Tips:
Plant under full shade for hotter, drier climates.
Spreads (slowly) via underground rhizomes. You can propagate by dividing and spreading out clumps.
Fertilise in early spring, with a fertiliser appropriate for azaleas.